It's storytime…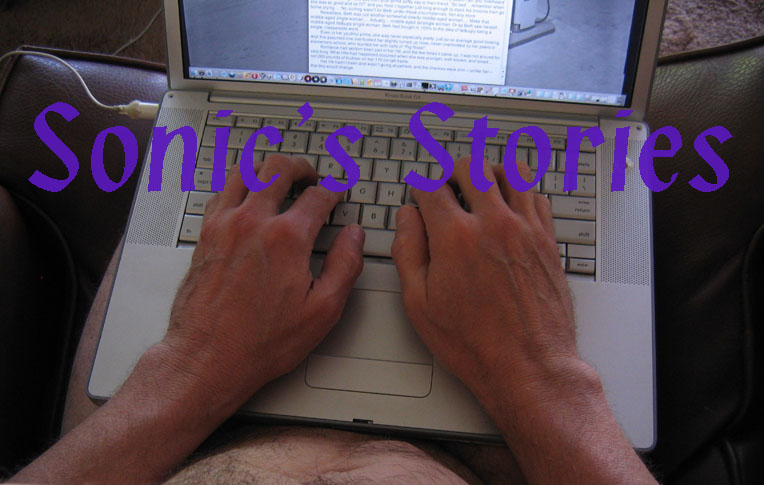 WARNING
: if you have not reached the age of legal majority in your jurisdiction and/or your parents do not want you to read anything having to do with sex and/or you submit to some coercive government force which claims that you may not read stories possibly involving human intercourse, please
go back NOW
. This content is provided in hopes of entertaining (and perhaps even enlightening) mature adults who enjoy fatlovesex, under the natural right of freedom of speech. If you do not want to read about fat and standard-size people wanting/having sex, please
leave now
. Thank you!
What Are These?
These are FatLoveSex stories: graphically sexy romance stories involving fat people and those who may not be fat who love them.
Note that my stories tend to feature:
Love of being fat. Sensually, sexually, identity-wise, and/or in other ways
Fat (weight) gain
Romantic love, most often including long-term Intimate Interpersonal Relationships (IIRs)
Graphic descriptions of sexual acts (almost always by people who love each other)
Low self-esteem and/or depression and/or emotional drama
Non-binary genders: physically, internal mentally, external presentation, sexual attraction
Free use of unexpurgated language at times and places where this is relevant to the story
Many but not all stories have:
Polyfidelity or Polyamory or Open IIRs
Gender transitions (some intentional, some not)
Each story's main page—introduction and direct links to individual chapters, linked in the table below—lists details of what's in a given story.
Some stories have:
Sci-Fi elements, ranging from minor to major
Conjoined, mutated, or otherwise unusual bodies
As with the category above, each story's main page lists details of what's in a given story.
You will 🚫Not🚫 find:
Sex acts involving excretory functions
Anal sex
Significant amounts of BDSM material (not an interest of mine and i've no experience with it). Some stories have brief scenes or mentions of it.
Last updated Sunday, 6 December 2020
Story
Brief Description
Length
Release Status
Originally Written
Universe
Unforgettable Cruise
Voyaging on a cruise ship in March 2020? What could possibly go wrong? 😟
Epic Novel
Completed


(due to underwhelming reader response. I did write it to have a possible endpoint where it now ends. Originally i'd intended it to continue and for a lot more fattening to happen)

April-May 2020
Realistic parallel universe
Udder Girl
Everyday life in a post-Accident world of mutated humans, through the eyes and other senses of one such human: Udder Girl.
Novel
Completed on 6 December 2020
July-August 2020
Alternate universe
Lengths are approximately as follows (adapted from Wikipedia: Word count):
Epic Novel: a long novel. Over 100,000 words.
Novel: as long as a traditional printed novel. 40,000 to 100,000 words.
Novella: 17,500 to 40,000 words.
Novelette: 7,500 to 17,500 words.
Short story: under 7,500 words.
---
Posted Elsewhere
My (Sonic Purity, the Jiggle Junkie's) stories presented on this site are the master canonical releases, where i have near-total control over their presentation (within the limits of HTML, CSS, and WWW browser support). To garner a wider audience, i endeavor to simultaneously* release new chapters and stories at the following Stories sections of popular fatosphere/creative expression websites:
* Simultaneously in practice means i release here first, then manually go to the other sites and post there. Ideally this happens within an hour or several, but due to unforeseen issues, may not always happen in any predictable time frame.
Note: Not all of my stories are available on all the above sites, due to individual site rules. All my (21st. century) for-free (as opposed to sold at a price and/or "premium content" exclusives on certain sites) stories which have been released are available here on this site, this page. I intend to keep them here for people in our community to enjoy for as long as possible.
Perfection is Not An Option
All these stories are guaranteed to have flaws. You will find some repeating patterns in most (possibly all) of my stories, in terms of aspects of characters, settings, and dialog. In the case of dialog, sometimes this is intentional: points of philosophy, ethics, beliefs, etc. which are important to me show up with different wording in the different stories. The more often something in particular shows up, the more important it is to me (consciously, subconsciously, or unconsciously).
Comments? Feedback?
This site is not currently set up for interaction, apart from your emailing me. Those preferring public 2-way interactions or public comments versus private messages are encouraged to use the mechanism(s) for that purpose at any of the sites listed above where my stories appear.
Does email work for you? Have comments or other feedback related to my stories? Want to encourage me to write more? Are you a fatlovesex author and want to co-write a story? Are you a (US)(SS)BBW who sees a part of yourself in one (or more) of these stories and might want me to direct the loving, caring energy which goes into composing these stories to real-life You instead? Write me!